Both versions sold out!
Elma Ultimate 2010
General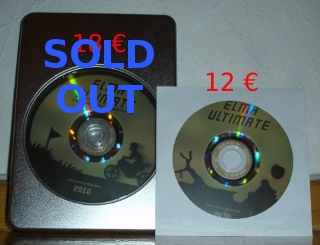 Elma Ultimate 2010 is a collection of the best Elma (and Across) stuff made since 1997. The material can be either downloaded as iso file or if you want to own a piece of Elma history of your own, you should probably order the DVD.
The DVD contains also all the stuff from old Moposite, which aren't uploaded to the new Moposite yet.
We offer you two versions: basic and collector's edition. The contents of them are same, just the media is fancier in collector's edition. The prices are 12 € for basic and 18 € for collector's edition. We will use the earnings as Moposite donations: for server fees and other costs.
Contents
Lots of stuff that has never been published before
The best single player replays published (35:42:70)
351 old WR replays
The largest Elma level pack
Materials of 25 cups
Pictures, videos and reports of 24 meetings
Pictures of the Elma museum items
Elma Crime and other Elma Forever CD materials
Over 3 GB of videos
...and much much more
Disclaimer
The DVD is dual layer so it might not work in all players. We verify the DVD after burning it so there shouldn't be errors but if there are (or any other problems related to the DVD) we can't really promise any return service. If things gets too complicated, we have to stop making the DVDs because of our very limited resources.
Order
Transfer 12 or

18

€ to FI61 1078 3500 6219 65 (IBAN) telling your street address in the message/text field
In case you need BIC (SWIFT), it's NDEAFIHH and the receiver name is Lassi Heikkinen
You can order many DVDs at the same time, but there are no amount discounts available. For example if you want to get two collector's editions and one basic, transfer 48 € (2 * 18 + 12)
We ship once in a month so you probably need to wait for some weeks
Shipment costs included in the price
Problems resolved through